The re-opening of a mine in an established mining community
The Viscaria mine was earlier in use between 1983 –­­1996, owned by LKAB and Outokumpu OYJ. At that time, the Viscaria mine produced 12.5 Mton of ore at 2.3 per cent copper. The mine was closed 1996/1997 when the copper price was at a level of 1,700 USD per tonne (today approximately 7,000 USD per tonne). The Viscaria Project area is located approximately 5 km west of the town of Kiruna – close to critical infrastructure, including the E10 highway, the Luleå-Kiruna-Narvik railway, and the established hydro-power grid.
As early as the 17th century, mining began in Kiruna municipality and it was then clear that the ore deposits in the area were extensive. Kiruna is an urban area and the central city in Kiruna municipality in northernmost Sweden and the largest urban area in the province of Lapland with about 16,000 inhabitants. Kiruna is a distinct mining community located between the two mountains Luossavaara and Kiirunavaara, both with large iron ore deposits, and the southern slope of the third city mountain Haukivaara. Kiruna was founded in 1900, and Hjalmar Lundbohm is considered its founder. He was a manager at the mining company LKAB, which began mining iron ore in Kiirunavaara in the late 1890s. Kiruna is crossed by the highway E10. More importantly, there is a railway connection through the railway line Malmbanan, which has been a prerequisite for mining in Kiruna. Malmbanan is an approximately 500 kilometer long railway line that runs between Narvik and Luleå and is one of the world's oldest ore railways.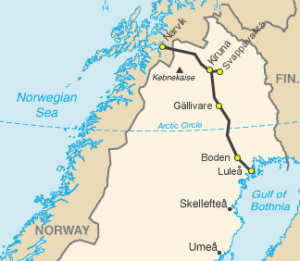 Map of the Malmbanan route
The Fraser Institute Survey of Mining Companies has for many years consistently ranked Sweden as one of the best countries regarding government policy on attitudes towards mineral exploration investment, although in most recent years lost some positions. Sweden in all material aspects has the same prerequisits with regard to geological and tectonic settings, mining heritage, culture and jurisdictional safety as Finland.
We want to build a strong and sustainable copper producing company and exploration presence in the northern part of the country. We are proud of our initiatives in close co-existence with the local communities. What would a re-opening of the Viscaria copper mine mean for Kiruna and the potential large-scale copper discovery in Arvidsjaur mean for Sweden? Hydrothermal copper systems (as in the Arvidsjaur project) could have large tonnages and the mining and beneficiation of such a deposit, should it be found, would have a major impact on the regional economy and potentially on the Swedish mining sector.