I tabellen nedan presenteras Copperstone Groups mineraltillgångar.
Eftersom de historiska mineralresurserna inte uppfyller dagens krav på redovisning, betraktar Copperstone dem inte som aktuella. Vi uppmanar därför till försiktighet eftersom:
En kvalificerad person har ännu inte utfört tillräckligt med arbete för att kunna verifiera och klassificera de historiska uppskattningarna som mineralresurser i enlighet med dagens regelverk för redovisning;
Bolaget behandlar inte någon av de historiska uppskattningarna av mineralresurser som mineralresurser eller tillgångar enligt nu gällande regelverk; och
De historiska uppskattningarna av mineralresurser är inte tillförlitliga som grund för investeringsbeslut.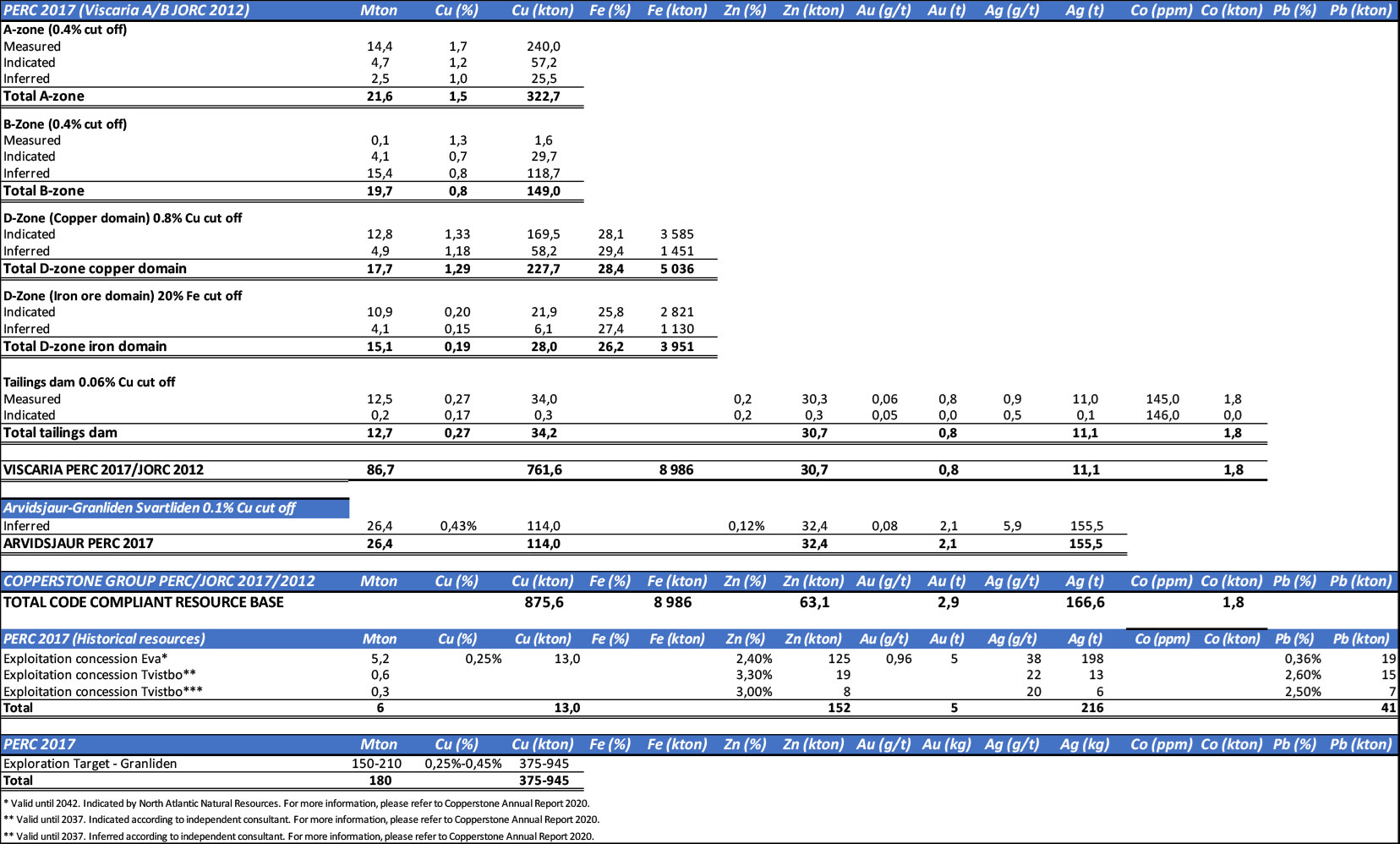 Copperstone is changing reporting standard from Fennoscandian Review Board (FRB) to the Pan-European Reserves and Resources Reporting Committee (PERC) "PERC Reporting Standard 2017". The PERC Reporting Standard is an international reporting standard that has been adopted by the mining associations in Sweden (SveMin), Finland (FinnMin) and Norway (Norsk Bergindustri), to be used for exploration and mining companies within the Nordic counties. The PERC standard has more clearly defined requirements on reporting and on Competent Persons. The change to PERC-standard is a process that will require a transition period. The current report is done as far as possible is accordance with the PERCstandard, but does not claim to be fully compliant. PERC 2017 is the current version of disclosure standards of the Pan-European Reserves and Resources Reporting Committee, recommended for use by the Fennoscandian Association for Metals and Minerals Professionals. JORC 2012 is the current version of the disclosure standard of the Joint Ore Reserves Committee, mandatory for all companies listed on the Australian Stock Exchange, the ASX. 
Kvalificerade person - Den tekniska informationen på sidan har granskats och godkänts av Bolagets kvalificerade person Thomas Lindholm M. Sc., GeoVista AB, Luleå.