I tabellen nedan presenteras Copperstone Groups mineraltillgångar.
De historiska mineralresurserna betraktas inte av bolaget som aktuella då de inte uppfyller dagens krav på redovisning, läsaren uppmanas därför till försiktighet eftersom:
En kvalificerad person har ännu inte utfört tillräckligt med arbete för att kunna verifiera och klassificera de historiska uppskattningarna som mineralresurser i enlighet med dagens regelverk för redovisning;
Bolaget behandlar inte någon av de historiska uppskattningarna av mineralresurser som mineralresurser eller tillgångar enligt nu gällande regelverk; och
De historiska uppskattningarna av mineralresurser är inte tillförlitliga som grund för investeringsbeslut.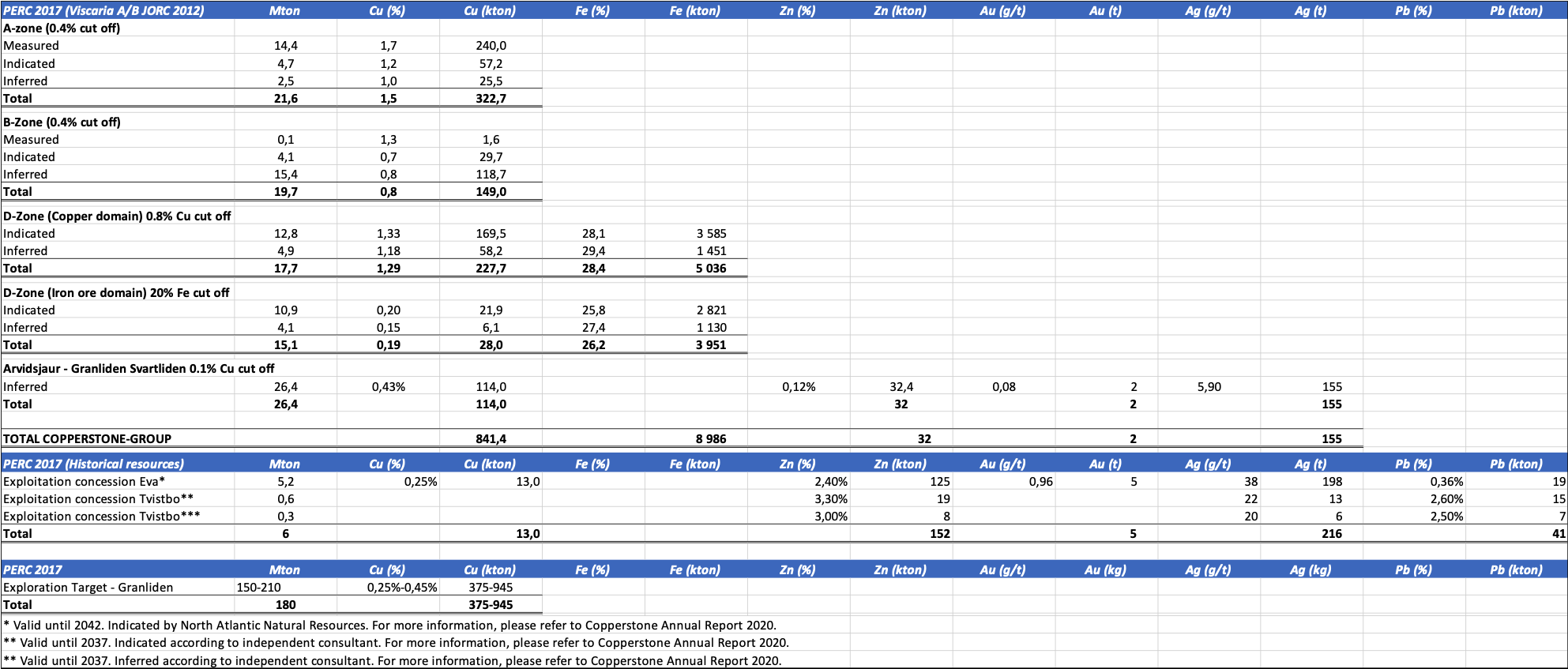 Copperstone ändrar rapporteringsstandarden från Fennoscandian Review Board (FRB) till Pan-European Reses and Resources Reporting Committee (PERC) "PERC Reporting Standard 2017". PERC Reporting Standard är en internationell rapporteringsstandard som har antagits av gruvföreningarna i Sverige (SveMin), Finland (FinnMin) och Norge (Norsk Bergindustri) för att användas för prospekterings- och gruvföretag inom de nordiska länderna. PERC-standarden har tydligare definierade krav på rapportering och till behöriga personer. Ändringen till PERC-standarden är en process som kräver en övergångsperiod. Den aktuella rapporten görs så långt som möjligt i enlighet med PERC-standard, men bolaget hävdar inte att den är helt kompatibel. PERC 2017 är den nuvarande versionen av redovisningsstandarder för den pan-europeiska reserv- och resursrapporteringskommittén, rekommenderad för användning av Fennoscandian Association for Metals and Minerals Professionals. JORC ​​2012 är den aktuella versionen av upplysningsstandarden för Joint Ore Reserves Committee, obligatorisk för alla företag som är noterade på Australian Stock Exchange, ASX. För mer information besök Copperstones webbplats på www.copperstone.se
Kvalificerade person - Den tekniska informationen på sidan har granskats och godkänts av Bolagets kvalificerade person Thomas Lindholm M. Sc., GeoVista AB, Luleå.